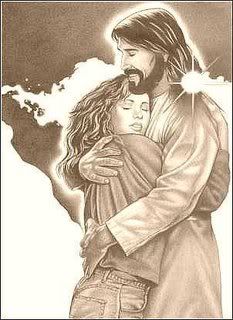 I flow in the gift of HUGS.
I did not even know this was a gift. I was at a Woman of Faith Conference with my YahYahs (10 friends)... It was the first time I ever tangibly felt the Holy Spirit. HE felt like a mist, and the whole place was filled with His Peace. I also think it is when I got saved. Mind you, I went to church my whole life, and had been going to Bible study, but it is the first time I really felt like I laid it all down at His feet and surrendered my life to Him...
There was this incredible woman ministering there named Thelma Wells. She reminded me of the nanny that raised me. I knew during the break that I was supposed to get her to hug me. I went and stood in line behind everyone who wanted her autograph and pictures with her, and I humbly asked her if she would hug me. She held me for a long time. I did not feel anything particularly, but shortly after that is when GOD started telling me to hug people.
At first it was VERY uncomfortable to me to offer to give someone a hug. I was rejected more often than not. For a while I mostly hugged people in church, not so much in the marketplace. For a while, GOD would tell me hug to people who I did not like, did not want to talk to, much less hug. HE was teaching me that my opinions about others did not matter. HE loves us all, and HE was setting me free from my prideful opinions and selfish emotions. Regardless of how I felt, HE wanted to hug these people; I was to be His hands and arms.
If the person is open to receiving, then The Anointing shows up and usually what I release is multiplied and we are both blessed and filled with His PEACE. Sometimes the person cries, sometimes they laugh, sometimes they are comforted, sometimes we get stuck together for the rest of the service... One time this Asian woman and I hugged and my heart started to break, it hurt so terribly... Sometimes I feel like we are being swooshed up and away to Heaven... In contrast, when the other person does not receive, nothing happens, it is just an ordinary hug.
Along with this hug anointing, I have a MAMA Anointing. GOD will fill me with a mother's love for someone even almost my age (a couple times the person has been older than me)... I will be so moved with compassion for the person that is before me, it is as if they are my own child and I have known them their whole life.
When I flow in these gifts, I do not receive prophetic words per se. I know the Father's love for them, but generally I do not hear or see anything specific for them. This used to bother me because those around me hear and see so much and I felt like my gift was small in comparison. GOD has brought me to a place of more maturity to accept and appreciate what HE has given me, and to NOT compare my gifts to others' gifts. Each expression should be different as each of us is a different facet of His Creative masterpiece.
I am not sure if everyone can give hugs, maybe they can? About 2 years after GOD started having me hug people, I found out about Shampa Rice, "a little lady from the kitchen" who also gives hugs. Her expression of Hugs is different from mine, as well it should be. One time she was introduced, saying, "Do not ask her to pray for you, her Hug is her prayer". We do not always need to try to fill the space with words, sometimes I have no words to release, only a hug...
I am still blessed by this daily as I go about the dailiness of my life. How GOD uses my gift for The Body and for those who do not yet know Him. When they feel PEACE, they ask "What is that?" and I answer "that is JESUS, HE loves you. HE has never left you nor forsaken you. HE is waiting for you and HE wants to Bless you"...
This gift HE has given me is so subtle and hidden. It is so easily overlooked or pushed aside. Like so many precious things with JESUS, we have to be open and willing to seek His Treasure.
But God has chosen the foolish things of the world to put to shame the wise, and God has chosen the weak things of the world to put to shame the things which are mighty; and the base things of the world and the things which are despised God has chosen, and the things which are not, to bring to nothing the things that are, that no flesh should glory in His presence.
1 Corinthians 1:27-29
What wonderful or even amazingly simple gifts do you flow in? If you do not know for sure, ask The LORD to reveal them to you... I Know you have Treasure hidden inside!!

Sara
http://i248.photobucket.com/albums/gg180/rhondarenfro/JesusHug2.jpg